Eye Lounge
Relax and unwind in our timeless bar overlooking the South Bank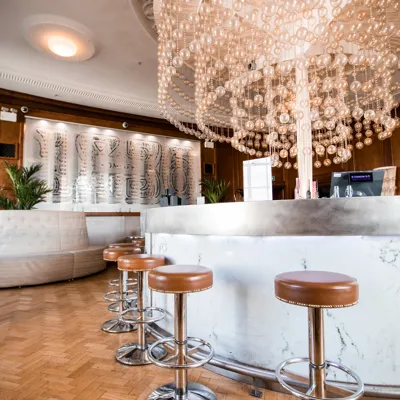 Eye Lounge
The Eye Lounge has reopened for 2022! If you're visiting the lastminute.com London Eye, make sure to head up to the Eye Lounge for a luxurious bar experience with spectacular views.
Our Eye Lounge offers:
An elegant atmosphere to unwind inside London's historic County Hall
A selection of drinks including Pommery Champagne
Views overlooking the River Thames, Westminster Abbey and lastminute.com London Eye
Important Information:
Please note that the Eye Lounge is open Friday - Sunday from 12pm - 5:45pm. The Eye Lounge may also be closed for operational reasons during these times. If you would like to visit the Eye Lounge, please ask a member of staff on the day for further information.
Please note that there is a scheduled closure from 4th - 6th November 2022.
Directions:
Enter the main London Eye ticket office on the Southbank and follow the corridor round to the right. Once you have passed the VIP Experiences area take the stairs on the left. Once upstairs, head down the corridor and the Eye Lounge will be right in front of you!