Please select your London Eye River Cruise tickets below
London Eye + River Cruise
Online from
£46
Per adult
30 minute rotation with iconic 360 degree views of the capital
40-minute circular sightseeing boat cruise along the famous River Thames. See London's most popular landmarks led by expert guides
The time selected will be for the London Eye River Cruise - you must book a visit time for the London Eye separately
River Cruise
Online from
£14
Per adult
40 minute cruise through the heart of the city along River Thames
Expert commentary provided by our professional and knowledge guides on board
Bar on board with a wide range of refreshments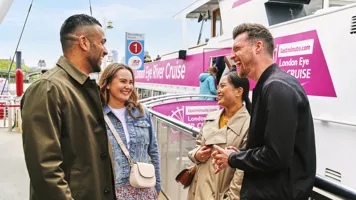 Set sail on the River Thames with the London Eye River Cruise
This 40 minute river boat cruise will take you through the heart of London along the famous River Thames, where you'll see some of the city's most famous landmarks including Houses of Parliament, Big Ben (Palace of Westminster), St Paul's Cathedral, Tate Modern, Tower of London, Shakespeare's Globe, Tower Bridge and much more!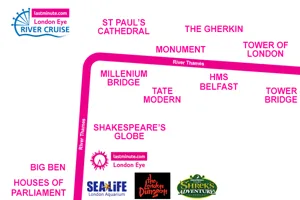 What is the London Eye River Cruise?
The London Eye River Cruise is a 40 minute circular sightseeing tour, along the River Thames. Departing from The London Eye pier you will be taken on route to see the House of Parliament, though to The Tower of London and Tower Bridge, where you will return back to The London Eye Pier.
This is a circular tour, and doesn't stop at other piers throughout the duration of your cruise. Why not combine your visit with The London Eye with the River Cruise?
More about the tour
40 minute circular boat tour along River Thames
Live commentary by one of our expert guides to fill you in with everything you need to know about the city
Audio commentary available in French, German, Spanish, Dutch, Italian, Russian, Japanese and Mandarin
It is a 40 minute circular tour that starts and stops at the London Eye Pier with no stop-over in between
It departs at 45 minutes past every hour. For the most up-to-date opening hours, please visit the opening hours page
The London Eye River Cruise has an indoor seating area operating on a first come first serve basis. Customers can still cruise along the river and enjoy the full experience in the comfort and warmth inside.