Eye on London - London's Iconic Structures
Monday November 6th 2017
History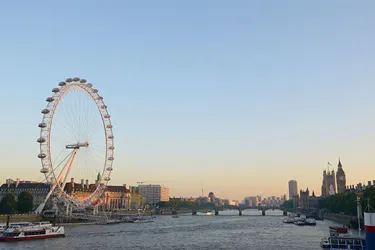 London from the inside Monday 6th - Sunday 12th November 2017
How well do you know London's most iconic structures? How many could you name by sight? And do you know what they're used for? During the autumn and winter months we are selling exclusive Day and Night tickets. This means, for a special price, you will go up in the London Eye for two 30-minute rotations - once during the daytime, where you can see all of these amazing buildings at once, and then again when the sun has set to see the stunning skyline lit up at night.
The Coca-Cola London Eye
The London Eye itself was originally intended as a temporary structure which was able to be dismantled and transported to a new location. It only started out with five years of planning permission but it's popularity quickly meant that its lease was extended so that it is now a permanent fixture on the skyline. A beautiful symbol of modern London.
County Hall
Right next to the London Eye, County Hall is home to our 4D-movie, Shrek's Adventure!, London Dungeon, SEA LIFE London Aquarium and a vibrant mix of hotels, restaurants, apartments and other businesses. It was originally opened by King George V in 1922 when it then served for 64 years as the headquarters of the local government in London.
Westminster Abbey
Edward the Confessor built the first Abbey over 1000 years ago. 3,300 people are buried or commemorated here, most of them significant to the country's history including many monarchs and over 100 poet's in Poets' Corner. It's been the setting for every Coronation since 1066 and sixteen royal weddings.
Buckingham Palace
The official London residence of the reigning monarch (currently Queen Elizabeth II), Buckingham Palace has 775 rooms including 188 staff bedrooms, 92 offices and 78 bathrooms.
Strata
Nicknamed The Razor, it is home to over 1000 residents in 408 flats in Elephant and Castle.
BT Tower
A distinctive feature of London's skyline for 52 years and once the hub of Britain's telecommunications system. Until 1980 it was the tallest building - the main part is 177 metres tall with the aerial section taking it 191 metres.
St Paul's Cathedral
The dome of St Paul's is one of London's most recognisable sights, sitting on Ludgate Hill at the highest point in the City of London. It was designed by one of Britain's most famous architects, Sir Christopher Wren, financed by a tax on coal and declared finished on Christmas Day 1711.
The Walkie Talkie
Officially called 20 Fenchurch Street, the skyscraper has a famous concave shape. It was completed in 2014, designed by architect Rafael Vinoly and costing over £200 million to build.
Canary Wharf Tower
One Canada Square is 50 storeys high and has an unusual pyramid shaped roof that contains flashing roof lights to warn approaching aircraft. The lights can be seen up to 20 miles away at night and use energy efficient light bulbs cutting the annual electrical running cost from £116k to £23k.
Follow us on Twitter, Instagram, Facebook and Spotify to keep up-to-date with our insider news for Londoners.