What to Do in London at Night
Tuesday August 8th 2023
London Eye
London itinerary, Secret London, London at Night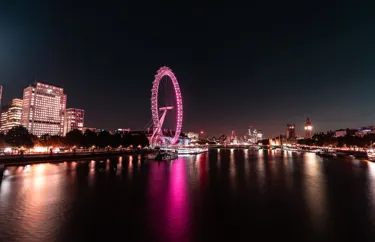 The top things to do in London at night
Introduction: When the sun goes down, London comes alive
Start the evening with a bang! 
London after dark
Bars and Restaurants with a twist
London at night FAQs
Introduction: When the sun goes down, London comes alive
Like all capital cities across the world, they truly come alive when the sun sets and the night begins. However, none burst into life quite like the City of London because no other city offers the array of choices that London does. As a multicultural and international hub for Europe, London at night feels like several cities in one, with every new stop on the tube opening its doors to a brand-new place with a brand-new set of people. And, with so much to see and do, it can be difficult to know where to start. But don't worry, our guide to London's nightlife has got you covered.
Start the evening with a bang!
Let's start where all great nights start, the early evening. As many Londoners and commuters know well, the only way to have a great night in the city is to start your London evening activities off with a bang. Luckily, we've compiled a list of the perfect ways to kickstart your night out on the town:
1. See the city lights from the London Eye
Standing at just over 135 metres tall (or 443 feet, which is equivalent to 64 red telephone boxes piled on top of each other), the London Eye at night is the perfect way to start your evening off with something special. Closing at 8:30 p.m. (at weekends), we recommend taking a champagne experience in one of its 32 climate-controlled observation pods. Whilst enjoying your glass of chilled Pommery Brut Royal Champagne (served by a private host), you can take in the city in all its splendour, with a view of up to 40 kilometres from the very top (on a clear day, that is as far as Windsor Castle) watch the city lights twinkle alongside sunset.
2. See a show in the West End
Nothing starts an evening out in London quite like a show in the West End (that's why they call it 'dinner and show'). As London is widely considered to be one of Europe's cultural and artistic hubs, you'll have a lot of fun evening activities to choose from. Of note in the city this year, are the classics, including Wicked, Mama Mia and The Lion King; the comedies, including The Book of Mormon, Matilda the Musical, Back to the Future; and the newcomers, including Groundhog Day, Aspects of Love and A Strange Loop. As a well-trodden path for many local Londoners and visitors alike, there are many places to eat and drink wherever your show is playing; just don't forget that the show must go on even after you're done.
3. Take a sunset river cruise on the River Thames
For an attraction that's really unique to London, you can always start your night off with something a little more nautical: a cruise along the River Thames. With so many offers to choose from, we recommend the London Eye's award-winning 40-minute sightseeing cruise. Aboard the boat, the Silver Bonito (which is fully accessible, with full disabled access to both decks and a carrying capacity of up to 250 passengers at any one time), you'll enjoy some live commentary presented by expert guides, covered and sun deck seating (to enjoy the evening air) and a route departing from the London Eye to Tower Bridge and back. The audio tour is also available in French, German, Spanish, Dutch, Italian, Russian, Japanese and Mandarin.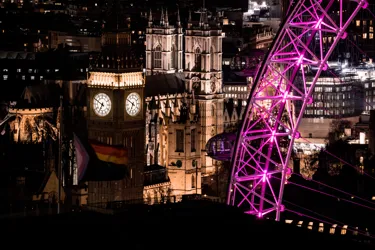 London after dark
Now for the main event: London after dark. After searching through the many night-time and evening activities that London has to offer, we've come up with the three experiences that will turn any night out into a truly unforgettable night on the town.
1. Face your fears at a Jack the Ripper ghost tour
With a rich and gruesome history stalking almost every twist and turn of the city, London after dark is the perfect place to get a little spooky. For the scariest and spookiest experience of all, we recommend a Jack Ripper inspired ghost tour of central London. Join your guide as they accompany the Victorian police as they hunt down the Ripper himself through the crooked, cobbled alleyways of 19th century London. If visiting all the original murder sites doesn't get your heart pumping and your blood curdling, perhaps perusing old Victorian photographs and handbills in your search for the killer will. There are many reputable providers of tours like this to choose from in London, so you'll be spoilt for choice.
2. Awaken your Inner Child at a Museum Sleepover
If we've taken anything from the silver screen, it's that museums are even more fun after dark. That's why, we recommend one of the many sleepover opportunities at some of London's world-famous museums. Get cosy with some ancient kings and gods (and maybe a mummy or two) in the Egyptian and Assyrian galleries at the British Museum. Or stay up late at a sleepover filled with monster movies, food, a pub quiz, science, stand-up comedy and dinosaurs at the Natural History Museum. Be aware, tickets for these events sell out fast, so it's a good idea to buy well in advance.
3. Become a part of British History during the Ceremony of the Keys
Every night, amongst the mighty battlements of the Tower of London fortress, passers-by can just about hear the echoes of the Ceremony of the Keys, a 700-year-old custom that has remained unchanged (except for the name of the monarch) since its inception. If you want a real feel for London's history and a truly unique night-time activity, we recommend spending 35 minutes of your evening engaging in this renowned British tradition. Tickets for this nightly event are sold in advance online, with ticket holders meeting at 21:30 outside the main entrance to the Tower of London, West Gate. Due to the security surrounding the national treasures that reside in the Tower of London, late arrivals will not be admitted, so make sure you're early.
Bars and Restaurants with a twist
No night out in London would be complete without a little something extra – this is the nation's capital after all. Below, we've compiled a little list of bars and restaurants that will add something special to your night (but don't forget to book your place well in advance).
1. Spend the Evening at Dans le Noir
Dans le Noir is a restaurant in Clerkenwell with a little twist: your dining experience takes place in complete and utter darkness. Although many of you may have heard about this restaurant before, there's nothing quite like experiencing it for yourself. At Dans le Noir, you'll be served by blind and visually impaired waiters with a meal that will challenge your newly heightened sense of taste and smell. The restaurant's surprise menu (a choice between meat, fish, vegetarian and vegan) is also a wonderful way to try something new. This experience is not the best for those who are picky with their eating habits.
2. A Spot of Dinner at the Circus
For a completely unforgettable night, we recommend enjoying some great pan-Asian cuisine in the futuristic cabaret dining bar known as Circus. Created by British designer Tom Dixon, this glamorous eatery in Covent Garden is dinner combined with a surprise cabaret show and some fabulous circus acts parading across your table. From aerialists and contortionists to fire-breathers and the occasional hula hooper, this evening of cocktails and great food is the perfect place for an adventurous group of friends or a wild first date. Located at 27-29 Endell Street, this venue is popular amongst local Londoners, so try to book in advance if you want to guarantee a table.
3. Live Music at the Piano Works
Now, we know that live music isn't uncommon on the vibrant streets of London. However, live music at the Piano Works is a little more special than your average live band. In this Victorian warehouse, you'll listen to a 'live jukebox' because all the music is requested by you, the diners. As a result, singing (although not obligatory) is recommended by staff and the music lovers that frequent the Piano Works. Whilst enjoying your favourite singalong, you'll be treated to some of the best steaks, ribs and sliders you could hope to find in London. With some jaw-dropping cocktails to choose from (and a brunch option on the Saturday), we recommend the Piano Works as a great place to visit in London at night.
London at night FAQs
Yes, you can go on the London Eye at night. Its operation hours are from 10:00 am to 8:30 pm (last rotation). Riding the London Eye at night is a totally different experience, as it allows you to see the city of London's nightlife in all its modern glory.
Yes, it is absolutely worth riding the London Eye at night, because it's an especially magical experience to see the lights of the city at sunset. We recommend taking one of the London Eye champagne experiences and making an evening out of it with friends.
It depends on what kind of nightlife you're looking for. The West End is world-famous for its nightlife, as it's home to some of the best bars and shows you can find. The South Bank is equally famous for its alternative nightlife, including river cruises and the London Eye.
Some would argue that London's nightlife is even more beautiful than its daytime counterpart. If you really want to explore the whole of London at night, we recommend seeing it from the top of the London Eye, maybe even with a glass of champagne.