#EyeLoveLondon - Celebrating the Women of London
Monday March 5th 2018
History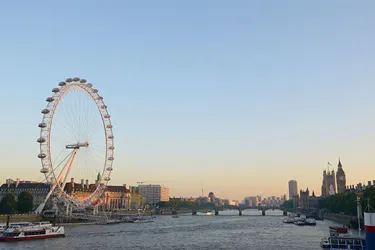 Inspiring perspectives of London Monday 5th - Sunday 11th March 2018
This week the UK celebrates International Women's Day on Thursday 8th March and Mother's Day on Sunday 11th March, so we're asking you and delving into the archives to find out more about some of the most inspirational female Londoners and those women instrumental in the history of our city and country. Let's hear it for the girls!
What is International Women's Day?
International Women's Day has been going for over a century globally and celebrates the social, economic, cultural and political achievements of women, as well as gender parity.
Get involved in International Women's Day in London
The London Eye will be lighting up purple for International Women's Day. Stop by for a picture if you can as it'll look spectacular after dark. There's also loads of other IWD events going on across London that you can get involved with. Seven Dials are hosting special in-store events and promotions in the lead up to it this week and are having a panel discussion called 'Press for Progress' at the Radisson Blu Edwardian Mercer Street Hotel at 7pm on the day. Secret London Runs are hosting a special treasure hunt style, 'inspirational women' themed run and there's loads more talks, performances and information sessions all around the city. Find all International Women's Day events here.
Women of London
We asked you who you think of as the London women who have been pioneering and inspirational to you...
Queen Victoria
Reigning from 1837, when she was just 18, to her death in 1901, the five foot Queen survived typhoid and at least six assassination attempts. She was multilingual and it was she who proposed to her husband Albert, with whom she had nine children.
Diana Princess of Wales
A member of the royal family, she was Patron to over 100 charities as part of her royal duties, including Centrepoint and Great Ormond Street Hospital. She campaigned against the use and manufacture of landmines.
Amy Winehouse
The soul singer and songwriter won three Ivor Novello Awards and five Grammys (the first British woman ever to do so). She died in 2011 at the young age of 27.
Claudia Jones
Campaigner, journalist and founder / mother of the Notting Hill Carnival.
Dame Kelly Holmes
Now an advisor to the Mayor of London, Dame Kelly Holmes is a double Olympic Champion. She founded the Dame Kelly Holmes trust which supports young athletes and disadvantaged children.
Emmeline, Dame Christabel and Sylvia Pankhurst
Suffragette leaders and campaigners for women's rights. They are commemorated by blue plaques that you can see above their homes in Notting Hill and Chelsea.   
Margaret Thatcher
The UK's first female prime minister, leading the country from 1979-1990.
Amy Lamé
A famous name across TV, print and radio in London, in 2016 Amy became London's first Night Tzar, championing London's night time economy.

Follow us on Twitter, Instagram, Facebook and Spotify to keep up-to-date with our insider news for Londoners.