Romantic Spots in London
Tuesday September 19th 2023
London Eye
Romantic, Secret London, Date nights, Anniversary in London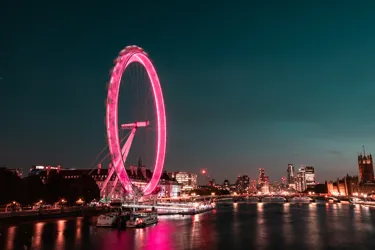 The Most Romantic Spots to Spend an Anniversary in London
Introduction: Got a big anniversary coming up and don't know what to do?
London's breath-taking views
London's top date nights
Romantic London Spots FAQs
Introduction: Got a big anniversary coming up and don't know what to do? We've got you covered
When love is in the air, it's not just sweet Paris or gentle Florence that spring to mind. Teeming with history, culture and the charm of a multicultural modern city, it's hard not to fall in love when roaming through the bustling streets of London. Often talked about as a treasure trove of hidden spots for lovers and couples the world over, the city has much to offer to those first-time celebrators of 'l'Amour' or those who have long kept the flame of love alive in their hearts. So, in the spirit of love, read on to discover our list of London's most romantic anniversary spots and the places that are perfect for cute dates in London.
London's breath-taking views
Nothing quite says 'I love you' like a breath-taking view. Fortunately, in the city of London, there are many places you can go that will take your breath away. Below, we've compiled a list of what we think are the best places to do just that:
1. Champagne on the London Eye
See the entire city of London and maybe make a grand gesture. Since its opening, there have been over 5,000 marriage proposals on the London Eye. The perfect way to see the sights in a private and intimate way, the London Eye's 32 pods (numbered 1 to 33, with 13 left out for good luck) are completely enclosed and climate controlled. At over 135 metres tall (or 443 feet high, the equivalent of 64 red telephone boxes piled on top of each other), its observation pods allow you to see up to 40 kilometres from the very top, which is as far as Windsor Castle on a clear day. For couples in the mood for celebration, we offer bespoke champagne experiences and Cupid's Pod, which includes a glass of chilled Pommery Brut Royal Champagne (served by a host), a luxury box of Hotel Chocolat Pink Champagne Truffles, a private pod and Fast Track boarding through a dedicated entrance. The perfect romantic date idea in London.
2. Stargazing at the Royal Observatory
There is something quite "out of this world" about staring into the stars whilst holding hands with your true love. So, why not circumvent London's light pollution and make your way to the Royal Observatory in Greenwich for a spot of stargazing on your anniversary? Be inspired by the beauty of our solar system as you peer through the Great Equatorial Telescope and get all starry-eyed on a tour of the night sky at the Peter Harrison Planetarium. Finish the night by pondering your eternal love for one another in the Weller Astronomy Galleries, where you'll find a 4.5-billion-year-old meteorite. This is easily one of the most romantic places in London.
3. Walk through an indoor oasis at the Barbican Conservatory
Although its Brutalist architecture doesn't quite scream 'romance' at first sight, the stunning tropical jungle that inhabits the Barbican Conservatory might have you reconsidering your definition of a romantic view. What better way to spend an anniversary than strolling through a calming forest containing around 2,000 species of tropical plants? A unique and quite unforgettable experience, this free attraction is only open on selected Sundays during the year, so don't forget to double check before you take your romantic trip to London. Once you've made your way through the jungle, you can finish off your romantic day out with a spot of theatre, film or art in the neighbouring world-famous arts centre.
4. Picnic on Primrose Hill
On a warm and sleepy afternoon, there's no better way to celebrate your love for one another than a sun-kissed picnic atop one of London's most romantic outdoor spots, Primrose Hill. The peak of Primrose Hill is also a short walk from Camden, Regent's Canal and Abbey Road, so there's no shortage of beautiful scenery and things to do during and after your picnic. There are fantastically rustic restaurants nearby where you can laugh and sing the night away. Although, with the weather being what it is in England, we recommend Primrose Hill as a spot for summer romance, rather than an all-year-round anniversary go-to.
5. Get in touch with nature in Richmond Park
Highly rated by Londoners and visitors alike, nothing says romance quite like a walk through the agrestal woodlands of Richmond Park. Known for its incredible natural beauty, abundance of wild deer and scenic views of the city, Richmond Park is a perfect spot for romance and intimacy. For a truly unforgettable look at the capital, we suggest taking in the London skyline from either Sawyer's Hill, where you can see the bustling streets of Central London, or King Henry's Mound (one of King Henry VII's famed hunting spots), where you'll find panoramic views of the Thames Valley and a tree-framed view of St. Paul's Cathedral (there's also a telescope for a close up of the city on a summer's day).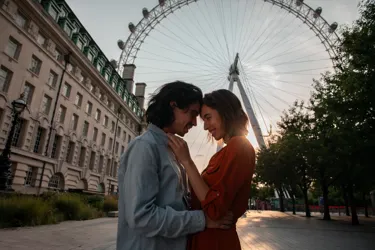 London's top date nights
Struggling with finding the perfect way to express your love? Or, has your date night in London caught up with you after a busy week? In either case, don't fret. We've got a list of London's top date night ideas for you to choose from:
1. London Eye River Cruise
What could be more romantic on a fun date night (or an anniversary celebration) than a boat cruise across the river? With the London Eye, you can take a unique, award-winning 40-minute sightseeing cruise on the River Thames. On your trip, you'll enjoy some live commentary presented by expert guides, covered and sun deck seating, and a route departing from the London Eye to Tower Bridge and back. The boat, the Silver Bonito, is fully accessible, has full disabled access to both decks and can carry up to 250 passengers at any one time. Audio commentary is also available in French, German, Spanish, Dutch, Italian, Russian, Japanese and Mandarin.
2. Take an Ancient Bath
For something a little different, a bit luxurious and rather intimate, try a candlelit, subterranean spa experience. Brought to you by AIRE Ancient Baths, this international collection of thermal baths (inspired by antiquity) started life in Spain about 20 years ago. Since their inception, they have expanded to the US, Denmark and London, with the promise of high-end treatments and a relaxing spa that rivals Olympus itself. From Himalayan body scrubs to salt baths and many more wonderful things, you can even have the outside of your body bathed in red wine. With such decadence comes a price tag, but for one special evening, it's all worth it.
3. See a Theatre Show
As one of the nation's epicentres for art and culture, we recommend taking your lover or significant other to one of London's many award-winning and world-famous theatre shows. An extravagant musical, a ridiculous pantomime or a dramatic performance of a great classic, there's something for everyone (even for those who aren't that sure about theatre to begin with). Whether it's the wonder of the Lion King at the Lyceum, the laughter of Mama Mia at the Novello, the ethereal wonderland that is A Midsummer Night's Dream at the Globe or the beauty of Brokeback Mountain at Sohoplace, all are perfect for a date night in London.
4. Let Some Sparks Fly with some Jazz
Nothing says love like the roaring sound of an old timey jazz band getting into a groove for the night. Fortunately, London plays host to an array of rustic jazz bars and speakeasies, so you can 'sing, sing, sing' to your heart's content and woo your lover with some of your finest dance moves. Most jazz bars in London are accompanied by a cocktail bar, so you can indulge in fanciful drinks adding an extra special element to your date night. For the best experiences, we recommend the world-renowned Ronnie Scott's Jazz Club in Soho, Jazz After Dark (also in Soho) and The Jazz Café in Camden. However, we're not the only ones who know about these jazz institutions, so don't forget to book a table in advance of your special night.
5. A Private Museum Tour
Over the last 10 years or more, a private museum tour has become one of the most popular romantic date ideas in London. Private, intriguing and most certainly a treat, there are a number of outstanding private museum tours to choose from in the city. However, we recommend the Natural History Museum. On their 'Behind the Scenes' tour, you'll be accompanied by a specialist science educator and get to see the museum's incredible zoology collection. With over 22 million specimens housed there, you'll be sure to find something pretty incredible and unforgettable on this cute date night in London.
Romantic London Spots FAQs
Is London known for romance?
With such a rich history of art and literature, few cities have seen the amount of romance that London has. In fact, its winding streets play host to a number of romantic spots, including the London Eye, the River Thames, Primrose Hill and Notting Hill.
Is London pretty at night?
The city of London is as spectacular at night (if not more) as it is in the daylight. With so many of its famous landmarks lit up for its visitors, you'll find some incredible views atop the London Eye, King Henry's Mound or even Primrose Hill.
Is London good for couples?
Considering its world-renowned landmarks and once-in-a-lifetime experiences, London is great for couples. Whether it's an anniversary or a date night, the city has a lot to offer, from a champagne experience in the London Eye to a private tour of one of its many museums.
Is it hard to date in London?
No, it's not hard to date in London. In fact, it can be easier because of the number of people and the number of romantic places to go and visit. London has a range of locations for a date night, such as the London Eye, Royal Observatory or even Covent Garden.