18 years of London's most iconic attraction
Thursday March 8th 2018
Press Release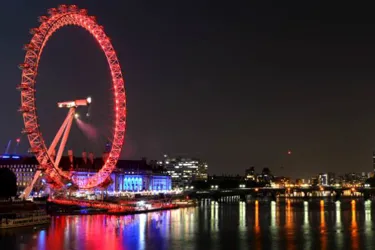 This Friday (9th March 2018), the Coca-Cola London Eye will turn 18 – marking 18 years as one of London's most iconic attractions. To celebrate, the London Eye will be offering complimentary tickets to anyone who turns 18 on the same day, giving them the opportunity to celebrate their big birthday 135m above the capital.*
This month also marks a few other milestones for the attraction including its 70 millionth visitor and 134,500th rotation, meaning that the total distance the wheel has turned in its 18 years would have circled the globe just over 1.5 times!
The London Eye and its 32 capsules certainly have a lot to celebrate, having been the venue for countless proposals, three Royal visits, Mo Farah's farewell ride on top of a capsule to mark the end of his UK track career, thousands of filming projects and the launch pad for 12,000 fireworks every New Year's Eve – becoming the place to celebrate the end of the year in the UK.
The landmark has also been the host for a number of celebrities including Lily Allen, Angelina Jolie and David Blaine – in fact, Kate Moss has enjoyed 25 rotations the London Eye in total.
Sunny Jouhal, Coca-Cola London Eye General Manager, said: "This is a major milestone in our history. It's been 18 years since our first guest and the London Eye continues to be as popular as ever – this month welcoming our 70 millionth guest.
"London and its landscape have changed hugely in our 18 year history but the London Eye remains an iconic landmark, offering breath taking views across the city and continuing to play a special part in millions of people's lives – from family celebrations and marriage proposals to school trips and weekend breaks. There have been some magical moments inside the capsules and I've no doubt this will continue."
As part of the celebrations, all those visiting the London Eye in 2018 are being encouraged to share their selfies using the #eyelovelondon on social media for the chance to star in the London Eye's new digital posters across Zone 1 train and underground stations in the capital.
It's a photo opportunity with a difference, where guests can not only share their pictures with friends, family and followers, but also with the millions of people who use London's transport network on a daily basis.
For more information and prices and to book tickets, go to https://www.londoneye.com/tickets-and-prices/experiences/
*Complimentary 18th birthday tickets are offered on 9th March 2018 only cannot be pre-booked. Only redeemable at The Coca-Cola London Eye ticket office upon presentation of a valid passport or photo driving licence with the correct date of birth.