BBC Sounds at The London Eye
Thursday November 1st 2018
Music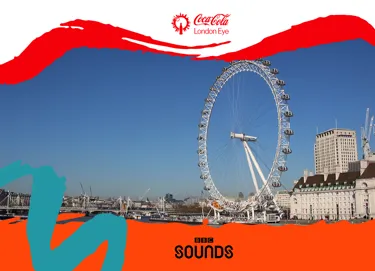 1st November 2018 - The BBC Radio and Music is taking over the Coca-Cola London Eye and turning it into the "London Ear" for the day to celebrate the launch of BBC Sounds!
Throughout the day, for the first time ever, a number of BBC radio shows across the networks will be broadcast live and a range of podcasts and music mixes will be recorded from one of six capsules on the London Eye, reflecting the broad range of content available on BBC Sounds. The iconic landmark will be lit-up orange – the colour of BBC Sounds – and animations will be projected onto County Hall at dawn and dusk.
The selection of breakfast, morning and drivetime radio shows includes parts of The Radio 1 Breakfast Show and Radio 4's Today Programme, the 1Xtra breakfast show with Dotty, Ken Bruce's morning show on Radio 2, Radio 4's Woman's Hour, the afternoon show on Radio 1 with Scott Mills, 5Live's Afternoon Edition, Steve Lamacq's 6 Music drivetime show and Radio 1's Essential Mix.
Some of the BBC's best-loved podcasts will also be recorded in the capsules to mark the launch. These include Fortunately… with Fi and Jane, which offers frank look behind the scenes with broadcasters Jane Garvey and Fi Glover, Fit & Fearless, in which Tally, Zanna and Vic – aka the #GirlGains crew – talk all things fitness and body confidence, and The Receipts, which features fun, honest chat with Tolly T, Audrey and Milena.
Bob Shennan, director of BBC Radio and Music, said: "BBC Sounds is our biggest product launch since BBC iPlayer over a decade ago, so we felt we needed to do something momentous to mark the occasion. We've got a brilliant day of programming lined up to come live from the London Eye, with every network broadcasting live from the capsules, plus we'll be recording some of our fantastic podcasts from there throughout the day. There'll be something for everyone, just as there is on BBC Sounds."
Make sure to tune in! BBC Sounds is available online at bbc.co.uk/sounds and can be downloaded for iOS, Android and Amazon.