The Coca-Cola London Eye to host speakers series dedicated to Netflix hit 'The Crown' this November
Wednesday October 5th 2016
Press Release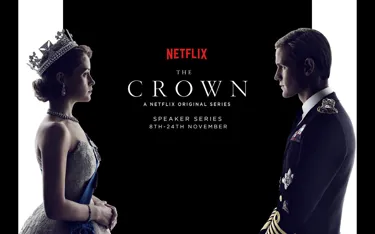 This November the Coca-Cola London Eye will be hosting an exclusive six-part speaker series from 8 – 24 November, with industry expert speakers from the production team of Netflix's new drama. 'The Crown' is a ten-part TV epic starring Claire Foy, Matt Smith and John Lithgow about the early reign of Queen Elizabeth II which is set to premiere this autumn.

Taking place every Tuesday and Thursday evening for three weeks, speakers include costume designer Michele Clapton, whose previous work includes the hugely successful 'Game of Thrones', and Executive Producer Andy Harries who worked on 'The Queen' with Helen Mirren.

The exclusive experience will offer guests an intimate hour-long double rotation on board the London Eye where the speakers will give their own unique perspective and expertise on the show alongside a live Q&A session. Guests will also be able to drink in breathtaking views of London's city skyline whilst enjoying a glass of Pommery Champagne.

As well as the speaker series the London Eye will undergo a regal takeover in celebration of 'The Crown' with costumes worn by the actors on display on the London Eye landscape and fascinating facts about the locations for the show in a free pocket guide for every visitor.

Tickets are on sale now, for more information and bookings click here.