The Duke and Duchess of Cambridge and Prince Harry celebrate World Mental Health Day at the London Eye with Heads Together
Monday October 10th 2016
Press Release, Royal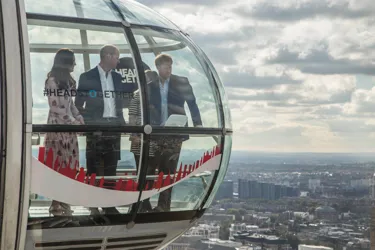 This year's theme for World Mental Health Day focuses on the importance of 'psychological and mental health first aid for all'. At a special reception with representatives and beneficiaries from the charities that are a part of the Heads Together campaign, their Royal Highnesses heard first-hand about the support that helps and thanked people from across the UK who have provided mental health first aid to someone.

Their Royal Highnesses spent time meeting with a range of people who have received help from a relative, colleague or friend in crucial moments in their lives as well as the person who provided support ranging from listening without judgement through to finding them specialist help. This was an opportunity for the Duke, Duchess and Prince Harry to learn more about the kind of support that makes all the difference and what information is available for people who might find themselves in a situation where they need to help someone or direct them to professional services.

Their Royal Highnesses spoke at the World Mental Health Day celebration about the support we can give each other with our mental health and their ambitions for the Heads Together campaign.

The Duke of Cambridge said:

"Catherine, Harry and I are incredibly proud to be working with you all to tackle one of the greatest challenges facing our society. Mental health is not a dirty word – we all have mental health like we do physical health, good or ill. But not seeking help at those times when it all seems too much, or we are depressed or anxious, can impact the rest of our lives.

"On the Heads Together journey so far we have seen the difference that a listening ear can make to people's lives – whether a father supporting a child suffering depression, a soldier who has returned from a testing deployment, or a child struggling with the pressures of a new school.

"The three of us have learnt a lot in the past few months as we have met people. The conclusion we are coming to is that the more we all talk about this, the more collectively as a society we can do to support one another.

"The theme of World Mental Health Day this year matches this. It is 'mental health first aid for all'.
To us, mental health first aid means getting in there early to support people, before what they're going through becomes more serious or even clinical."

The Duchess of Cambridge said:

"All of us know someone who has been through difficult emotional times, and we know how hard it can be to see a way forward.

"William, Harry and I feel it is our duty to do what we can, with your help, to shine a spotlight on emotional wellbeing and highlight the support that is out there to prevent or manage the pain at difficult times.

"The three of us are coming to the realisation that more needs to be done to support people who are seeking help. Over the coming months, we hope to explore what else we can do to increase the level of service and support that people can receive. But first, as William said, we must tackle the stigma that stops people asking for help in the first place. We want to encourage people to talk to one another."

Prince Harry said:

"William, Catherine and I want everyone to know how to give exactly the vital mental health support that you have talked about. It's not rocket science, but most of us don't know what to do if a friend or family member is suffering. Having some basic knowledge, and having the
confidence to act on your knowledge, can make a huge difference to those around us – as Rich was for Dan.

"We will all experience pressure on our mental health at some point during our lives. The more we accept that, the better we can help each other. Catching it and recognising it early, saves lives.
So, it's time we ended the shame around mental health – the fear of judgment that stops people talking or getting help.

"All of us have mental health. So the more we all get behind this topic, the more we can help not just the individuals suffering, but also their entire families and work colleagues as well. Together we will break the stigma forever and save lives."

Dan and Rich, paramedics from Blackpool, also spoke at the celebration, about how Rich supported Dan through PTSD he suffered after dealing with a traumatic child abuse incident.

Dan said:

"One day I thought I'd drop Rich a text to see if he was around for a chat. Within minutes, Rich was calling me. He came straight round to mine and we had a cup of tea and just talked. The relief I felt for confiding in Rich overwhelmed me, and I wish I'd done it sooner. He reassured me that this wasn't something to be scared of and we talked through my issues, and he helped me figure out what I needed to do.

"I realised that I already knew what I had to do, but the power of this conversation was all I required to push me into doing it. With Rich's support I went to my GP and started to see a counsellor which really started to help me. I was eventually diagnosed with Post-Traumatic Stress Disorder I spent about four months off work, and had counselling throughout that time. Doing that, and having time for reflection, helped me a lot.

"As I found out, listening is the most important thing you can do. It showed me that I was never alone."

During the Heads Together World Mental Health Day celebration Their Royal Highnesses met a number of people, including during a trip on the London Eye, who have experienced mental health problems and the people who supported them. These inspirational people ranged from a man who lost his wife to cancer, and was helped by his best friend when his mental health deteriorated, to a midwife who gave practical support and advice to a mother whose mental health problems resurfaced when she was expecting a baby.

Guests at today's celebration were able to take a photo with a message thanking someone for being #Thereforme at photo booths and share their photos on a new campaign website www.thereforme.org. The #Thereforme campaign was launched today by Heads Together and campaign partners Dixons Carphone and The Mix.

The London Eye will be lit up in purple this evening in support of World Mental Health Day, joining other buildings and landmarks worldwide and in London, including the National Theatre, Tower of London and the Trafalgar Square fountains, connecting Heads Together with the worldwide movement to end stigma around mental health. The 'Light Up Purple' campaign was set up in memory of Amanda Todd, a Canadian teenager who was bullied online and beaten and committed suicide before her 16th birthday.

About Heads Together
The Duke and Duchess of Cambridge and Prince Harry are spearheading the Heads Together campaign to build on the great work that is already taking place across the country, to ensure that people feel comfortable with their everyday mental wellbeing, feel able to support their friends and families through difficult times, and that fear no longer prevents people talking or getting the help they need.

Heads Together brings together a team of Charity Partners that have achieved great progress in tackling stigma, raising awareness, and providing vital help for people with mental health problems. The team covers a wide range of mental health issues that are close to The Duke and Duchess and Prince Harry's passions. They are:

Anna Freud National Centre for Children and Families
Best Beginnings
CALM – The Campaign Against Living Miserably
Contact (a military mental health coalition)
Mind
Place2Be
The Mix
YoungMinds

The privilege of being the 2017 Virgin Money London Marathon Charity of the Year gives Heads Together a positive platform to raise funds for the support provided by the campaign's charity partners and to start millions of conversations.

The Heads Together campaign is being generously supported by The Hans & Julia Rausing Trust, ShareGift and the first three Heads Together Founding Partners - Dixons Carphone, Unilever UK and Virgin Money. This support will help amplify the aims of the campaign as well as fund specific projects designed to help us all with mental health.