The London Eye gets a taste of the West End this Easter, forming a delicious duo with Roald Dahl's Charlie and the Chocolate Factory
Friday March 4th 2016
Press Release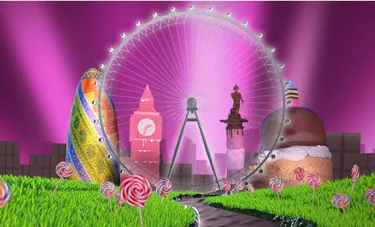 This Easter, the Coca-Cola London Eye is thrilled to announce it will be partnering with award-winning West End production, Roald Dahl's Charlie and the Chocolate Factory, as it enters its fourth and final year at London's Theatre Royal Drury Lane.
The London Eye will bring a scrumptious taste of Wonka's world and the acclaimed West End Musical to the South Bank as it introduces "The View of Pure Imagination" - an immersive family Easter experience running from 25th March – 9th April.
The London Eye will take families to the skies on a Charlie and the Chocolate Factory themed adventure to help Willy Wonka invent his latest concoction, inspired by the views of London's most famous attractions including Pic-a-fizzy Circus and Best-mints-ter Abbey. Expect a fantastical journey full to the brim with story-telling actors, mouth-watering mischief and ludicrous Easter craft workshops.
The area around the London Eye will also be decorated to delight as it is given a magical makeover, transforming into Wonka's gold and purple universe with lip-smacking lollipop trees and other confectionary shaped treats galore.
Sunny Jouhal, General Manager at the Coca-Cola London Eye said: "We are very excited to be partnering with Roald Dahl's Charlie and the Chocolate Factory for Easter – we'll be bringing the magic of the stage production to our guests as they soar 135 metres above London – what's not to love?"
For adults looking for a more sophisticated sweet treat, the London Eye's Hotel Chocolat Chocolate Tasting Experience offers the perfect pairing of prosecco and chocolate together with breathtaking 360 degree views of London's skyline.
For more information and bookings go to www.londoneye.com/easter