The London Eye 'put a ring on it'
Wednesday February 10th 2016
Press Release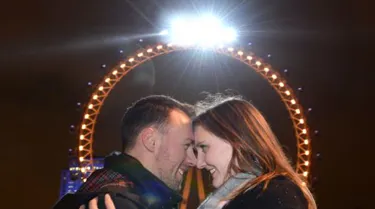 Alice Wilkinson contacted the London Eye last week, just ahead of Valentine's Day, to set up the epic proposal. The London Eye illuminated as a giant engagement ring in classic diamond solitaire style, just as Alice popped the question, as the couple stood across the river on the North Bank.
Alice said: "I've known from day one that Ben is the 'one', it is a bit rare for the girl to propose but I wanted to make sure my proposal was one to remember. When we've talked about getting engaged, we agreed the proposal should be unusual - I think I've achieved this as the whole of London can now see our engagement ring – and of course I am super delighted that he said yes!"
Ben said: "I was blown away by the proposal and never in a million years did I think Alice would manage to pull something like this off. The London Eye looks incredible and to think this is all for me has really taken my breath away."
Stephanie Francis from the London Eye said: "Love was definitely in the air tonight. As in the words of Beyoncé, we 'put a ring on it' (the Coca-Cola London Eye) this Valentine's Day!
"We are delighted for Alice and Ben and honoured that Alice chose the Coca-Cola London Eye as the location for her very memorable and special proposal. We wish them a very happy future together and look forward to welcoming them back for an unforgettable engagement party – and possibly even their wedding!"