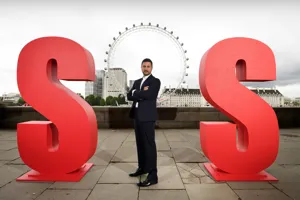 THOUSANDS OF BUSINESSES ISSUE CALL FOR ACTION TO AVERT LONDON TOURISM CRISIS
More than 10,700 London tourist attractions, restaurants, hoteliers, travel bodies and event organisers urge Prime Minister, Boris Johnson, to aid the recovery of the capital's tourism industry or face the economic consequences 
The 'SOS London' campaign launched today at the London Eye with a plea for the Government to Save Tourism, Organise Campaigns, Support The Industry
Tourism is vital to the London economy and the sector is the second biggest employer after financial services
After months of closure and already halfway through its peak season, the London tourism sector has today joined forces to urge the UK Government to act now or face an economic crisis in the capital.
The 10,776 London attractions, restaurants, hotels, industry bodies and event organisers have written to the Prime Minister, Boris Johnson, to urgently kickstart the capital's tourism sector and aid its recovery through investment and a clear strategic plan to welcome back tourists.
Led by Merlin Entertainments and with the support of trade associations including UKHospitality, Tourism Alliance, ETOA and UKinbound the 'SOS London Tourism Collective' believes action is vital to ensure London tourism is at the forefront of the post-lockdown recovery and guaranteeing long term success for destinations, attractions and businesses across the capital.
A key priority which the 'SOS London' campaign would like to see the Government address is a committed and rapid investment in both domestic and international marketing campaigns, positioning London as a safe and welcoming tourism destination. An extension to the business rates holiday by another year is also called for – otherwise seasonal businesses in the hospitality industry could get hit with an end of year bill when cash reserves are at their lowest.
Sunny Jouhal, General Manager of the lastminute.com London Eye, said: "The measures announced by the Chancellor of the Exchequer last week are hugely appreciated, but we now need to look further ahead to tackle future challenges. Tourism in the capital is in crisis due to three months of London effectively being closed, even with the ability for some businesses to reopen, the industry is already half-way through its peak season making it impossible for many across the sector to recover.
"We're launching SOS London with a wide selection of industry partners to take collective action and ensure the London tourism sector survives. London is practically empty and there is no concrete plan for recovery in place. If the UK Government does not act now, we will see one of the biggest missed opportunities on Britain's road to recovery and prosperity."
Tourism is vital to the London economy and the sector is the second biggest employer after financial services. Last year, there were 40.9 million overseas visitors to the UK, who spent £28.4 billion with more than half of those visitors (55%) coming to London.
The 'SOS London' campaign which launched with a stark message at The London Eye has issued the following manifesto statements:
Save Tourism: We need immediate government intervention to save London's tourism sector with a strategic capital-city-specific road map to recovery; developed with industry leaders to create local, domestic and international action plans.
Organise Campaigns: Significant financial resource must be made available for domestic and international campaigns, with the spend and scale of those that were delivered post-terror attacks. When safe and appropriate, there must be a clear message to all Londoners, visitors and potential visitors conveying the openness and safety of London's public transport system enhanced by incentive campaigns.
Support The Industry: London tourism businesses need an extension to the business rates holiday for one year; an increase of the Business Rate Relief threshold from £51,000 to £150,000 and at least 9 months' rent relief support.
Florence Eshalomi, Labour MP for Vauxhall, said: "While the Chancellor of the Exchequer's announcement is welcome, I'm very concerned that it does not go far enough.  "Having spoken to a diverse range of business owners in my Vauxhall constituency, the fact remains that cafes, restaurants, hotels and attractions are struggling to keep their business afloat. If the government does not take immediate action, the long-term prosperity of the area will be under threat and we risk losing fantastic businesses people know and love. The London tourism industry is fundamental to the economic recovery of the capital".
Page updated: 13/07/2020