Christmas at the London Eye
Celebrate the magic with us
With dazzling light-ups and plenty of festive activities on the Southbank, we're always the place to be at the most wonderful time of the year.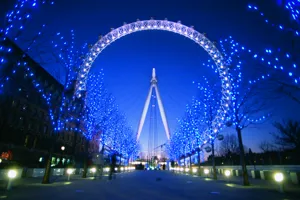 Take flight and enjoy the beauty of a wintery London skyline during the day, and the Christmas lights of the city after sunset from above. Click here for our opening times to plan your visit. The London Eye will be open every day except Christmas day.
Watch the London Eye light up in festivity for the 12 days of Christmas. We've got plenty of themes including Santa Claus, Christmas Trees, Starry Nights and Snowscapes - can you spot the colours for them all?
From 14th - 25th Dec, from 4pm every day.