This event is now closed.
29th April - 8th May 2023
The London Eye Coronation Capsule recreates this spring's historic Westminster Abbey moment 135m above the London skyline.  Step behind the royal curtain and have your very own majestic experience.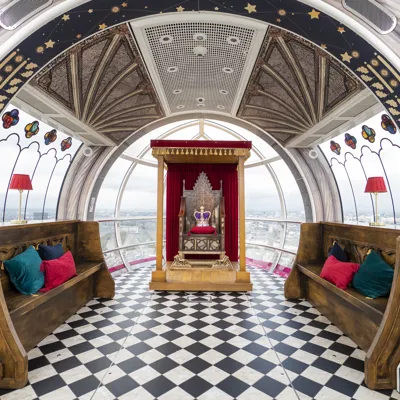 Enjoy a sky-high royal experience in the Coronation Capsule
Celebrating the coronation of King Charles III our unique Coronation Capsule recreates this once-in-a-lifetime moment by replicating the Westminster Abbey experience, with perfect views of the famous ancient religious building just across the river. 
You'll have the chance to sit in a recreation of the 700-year-old Coronation Chair and hold replicas of the Crown Jewels - St. Edward's Crown, the Sovereign's Orb and the Sovereign's Sceptre - to capture the perfect stately selfie floating 135m above breathtaking views of London.
Your regal experience will be topped off with a glass of champagne (or soft drink) to toast the national festivities.