Eye on London - 50 Things to do in London during October Half Term 2017
Monday October 23rd 2017
What's On This Month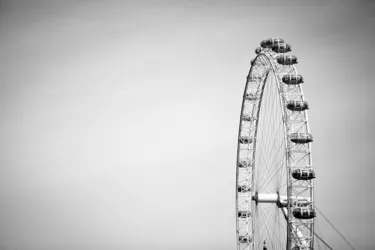 London from the inside Monday 23rd - Sunday 29th October 2017
A whopping 50 ideas for things to do in London during Halloween half term this week (and they're not all just for kids)…
1. Book your tickets for the best New Year's Eve in the world. Tickets for London are on sale now for £10 each.
2. See the city as it changes throughout the autumn from The Coca-Cola London Eye.
3. Carnaby Street's Newburgh Quarter is being turned into a two-week Halloween pop-up spectacular with installations, Halloween workshops and a fright night party.
4. Then go to see the Trolls Dance Party and meet Poppy and Branch at Shrek's Adventure!
5. Explore the boutique shops and restaurants in Gabriel's Wharf.
6. Ride the Death Express and find out the true story of the Necropolis this Halloween at the London Dungeon.
7. Go for a spin at Herne Hill Velodrome.
8. Walk the Thames and explore the South Bank from Westminster to Blackfriars Bridge.
9. Walk the Thames and explore the South Bank from Blackfriars Bridge to Tower Bridge.
10. Explore London's amazing street food stalls.
11. Visit the Whispering Gallery in St Paul's Cathedral.
12. Kick up the leaves in Epping Forest.
13. Carve pumpkins at Fortnum and Mason 25th-27th October - there's a prize for the best in each class.
14. Take a Time Warp dance class at Drink, Shop, Do in Kings Cross on Monday.
15. Are you ready for this Jellyfish Witch? See the Ocean Invaders at the SEA LIFE London Aquarium.
16. Feel the force this half term at Madame Tussauds.
17. Confront the dinosaurs at Crystal Palace Park.
18. Have a feast fit for a beast at Beauty and the Feast in The Vaults.
19. Watch the street artists in Covent Garden.
20. Bird watch at The London Wetland Centre.
21. Eat at 32 restaurants for 32 boroughs.
22. Play a round at the Junkyard Golf Club.
23. Pick a park that you haven't been to and go explore (did you know St James' Park has pelicans.)
24. See Dr Seuss's The Lorax at The Old Vic.
25. Put your clocks back at 2am on Sunday 29th October and get an extra hour in bed!
26. Go to Spitalfields City Farm.
27. Ask to see the Mayor at The Breakfast Club in Spitalfields.
28. Take a bottle of your favourite alcohol to BYOC.
29. Shop for your Halloween fancy dress at Angel's on Shaftesbury Avenue.
30. Get your comedy fix at the Soho Theatre or Comedy Store, Leicester Square.
31. Placebo play the O2 Academy Brixton for two nights on Monday and Tuesday.
32. Have a traditional afternoon tea with free flowing bubbles in the Library Lounge at the London Marriott Hotel County Hall.
33. Join the Southbank Centre for a daily story or build your own time capsule on weekdays during half term.
34. Get wet at Lee Valley White Water Centre.
35. Look sharp on The Savile Row Tour.
36. Fill your belly at The Southbank Centre Food Market every Friday to Sunday.  
37. See London from another perspective on a sightseeing cruise on the Thames.
38. Get your Christmas shopping off to a flying start on Oxford Street.
39. Climb Monument.
40. The Royal Albert Hall presents storytelling and music for 0-4 year olds until 24th November.
41. Take cover at James Smith & Sons umbrella shop, New Oxford Street.
42. Drink at London's oldest wine bar - Gordon's Wine Bar, Embankment.
43. Eat the best vegetarian Indian food outside India at Woodlands Piccadilly or Marylebone.
44. Try one (or more) of the 100 cereals, 30 milks and 20 toppings at the Cereal Killer Cafe.
45. The London Literature Festival is on at the Southbank Centre until 1st November.
46. Get up early to bag yourself some flower and foliage bargains at New Covent Garden Flower Market.
47. Watch Saint George and the Dragon at the National Theatre.
48. Eat at the actual First Dates restaurant - the Paternoster Chop House.
49. Dulwich Gallery presents 'Death: A Portrait', the art of dying and a coffin ball pit.
50. Plan your Bonfire Night and pick which of London's spectacular displays you'll go to.
Follow us on Twitter, Instagram, Facebook and Spotify to keep up-to-date with our insider news for Londoners.