Welcome 2024 with us
The iconic firework display returns to the London Eye to enter the New Year!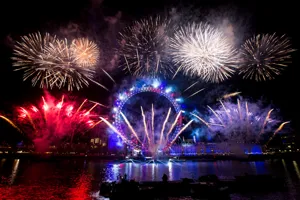 London's New Year's Eve celebrations return to the banks of the Thames.
We are delighted to partner with the Mayor of London to bring this incredible show back to the lastminute.com London Eye. As a long-established feature of the capital's famous skyline, we've been part of these famous celebrations since the Eye's inception in 1999 so it's an honour that the fireworks will once again inspire visitors from around the world to visit our great capital.  A dazzling display of colour and sound awaits, against the backdrop of our world-famous landmark, for both those here in London and for TV audiences across the globe welcoming in 2024 with their families and friends.
100,000 of lucky ticketholders will welcome the year with us, while a global television audience tunes in to see the celebrations and hear the traditional sounds of Big Ben's chimes marking the beginning of 2024.
More info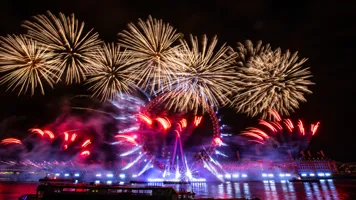 New Year's Eve 2022 at the London Eye
Watch the London Eye welcome 2022 with our world-class fireworks display. For the first time since, we're bringing back our iconic fireworks for the world to see.