Wellness Pod hosted by Equinox
This event is now closed.
Thank you for your support! This event is now closed. Check out our events page for the latest activities at the London Eye.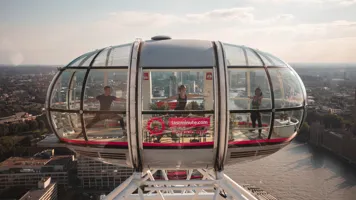 Take wellbeing to the skies with this eye-opening yoga experience
Find your flow while enjoying 360-degree views of London's skyline - soaring 135m above the capital!
The new Wellness Pod, hosted by luxury lifestyle leader Equinox, is a unique mind-body experience that takes yoga to new heights and horizons, offering daily yoga and meditation with uplifting views of London's iconic skyline.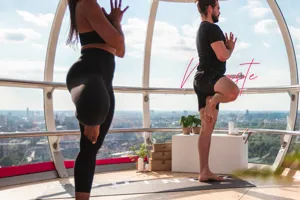 A Wellness Pod ticket includes
A specially curated class which incorporates a yoga flow and meditation delivered by one of Equinox's globally renowned group fitness instructors. 
The 60-minute sessions are curated to connect mind, body and soul, as guests gently rotate through the city's skies, enjoying views of the River Thames and the capital's landmarks. 
Fast Track boarding through a dedicated entrance.
Important information
Available to book Mondays, Tuesdays, Thursdays, Fridays, Saturdays and Sundays. Class is at 12pm. Pre-booking is essential.
Guests will need to arrive at least 30 minutes before the class (at 11.30am) and check in at the VIP desk in the London Eye Ticket Office.
Please come dressed ready for class.
All guests will need to sign a health waiver (supplied by your instructor at the VIP desk) prior to the class.
Please note this is a shared experience for up to 6 guests so you will be in the pod with other parties. Face masks are recommended whilst not taking part in the activity.
Please note that this class is for guests 18 years and older.
There are no storage facilities for guests so please ensure you only bring essential items with you.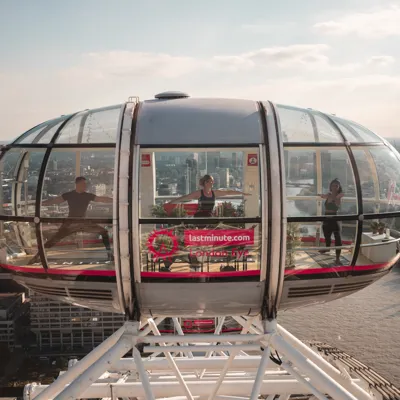 Equinox is a global luxury lifestyle leader that for 30 years has pushed the boundaries of the fitness landscape across the U.S, London, and Canada, offering an unmatched, holistic approach to high performance living. The brand's commitment to elevated and unique programming in unexpected and culturally relevant spaces makes them an ideal host to bring the Wellness Pod experience to life.