Accessibility Information
The London Eye Social Story
What is a social story?
Scroll down to view our social story, which takes you on a sensory journey of the guest experience at the London Eye. Find out what you may see, hear, touch and smell upon your visit! 
For further information on your London Eye visitor journey, download our Widgit Guide just below. Widgits are a symbol-based language which can be helpful to people of all ages who have difficulties with communication or understanding text. 
Download Guide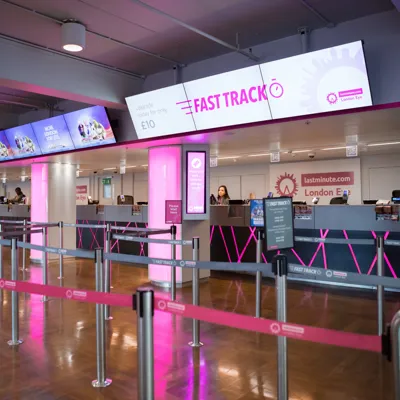 Arriving at the attraction
You may arrive at the London Eye by coach. Coach parking runs alongside Jubilee Gardens.
There are two entrances to the ticket office. Entrance 1 is step-free.
You can purchase tickets on our Kiosks or ask for help at these tills which are wheelchair accessible.
You can store luggage in our ticket office for £5 per item.
See
Accessible ramps or steps leading to the ticket office, Queue-line ropes, TV screens, information boards, kiosks, tills, friendly staff and guests
Hear
Music, people talking
Touch
Banner ropes, kiosk screens, paper tickets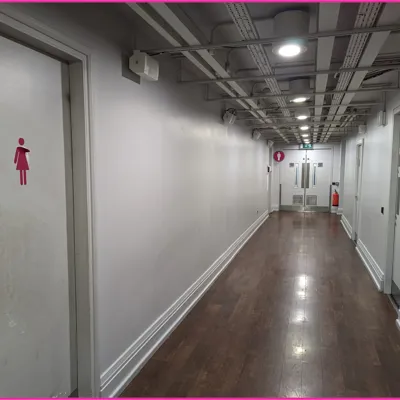 Toilets
There is a corridor by our self-service kiosks that leads to our accessible toilets
These toilets are located opposite the VIP experiences area.
You will also find more toilets downstairs, by taking the stairs beside the accessible toilets.
See
Corridors, entrance doors to toilets, male/female toilets, accessible toilet cubicles with a red emergency cord, sinks, hand dryers, mirrors, friendly staff and guests
Hear
Music
Touch
Doors, toilet paper, water from sink tap, air from hand dryer
Smell
Cleaning products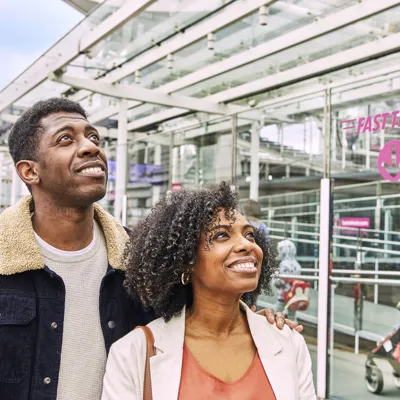 Starting the experience
You can enter the queue through the Fast Track or Standard entrance.
Here, our team can help you if you are in a wheelchair.
You will have to do a quick security search with one of our friendly security officers.
All bags will be searched and any big bags will be put through our x-ray machine.
Afterwards, our friendly staff can take a photo of your/your group if you wish. You will receive a ticket to view/purchase these after your ride in the gift shop. 
See
The London Eye, queue-line barriers, glass walls, direction signs, QR ticket scanner, security staff, metal detector wands, x ray machine, green screen, camera, staff and guests
Hear
Beeping (from metal detector wands and ticket scanners), staff and guests talking
Touch
Queue-line barriers, tickets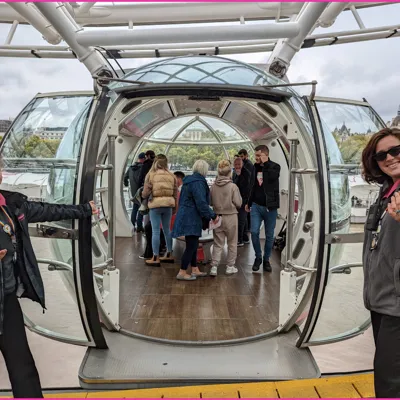 Boarding our pods
Our staff will call you forward to board the pod.
The pod will be moving slowly and can be stopped to help wheelchairs board with a ramp.
Hear
Welcome/Goodbye announcements through the speakers, guests talking
See
Glass walls of the pod, a bench, posters on the walls, views of the city and River Thames, machinery as you go up, the wheel structure, other guests
Touch
Glass walls, wooden bench
The London Eye River Cruise
The entrance to our pier is next to The London Eye.
There is a ramp to board The River Cruise and an accessible toilet can be located at the back of the boat.
There is a wheelchair lift to access the lower deck.
See
The pier, the River Thames, queue-line banners, boarding ramps, steps to the upper deck, lower deck with tinted windows and tuck shop, toilets, plastic seats, the commentary host with a microphone, the captain, the captain's room, other staff and guests, buildings/landmarks along the river
Hear
Live commentary, the boat travelling on water
Touch
Wooden railing, plastic seats
Smell
River water, fresh air