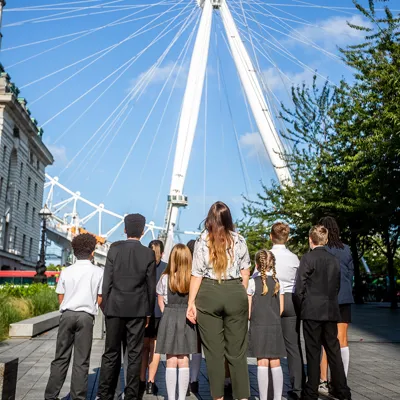 SCHOOL ADMISSION
Our schools packages offers pupils and teachers the following benefits:
Up to 59% discount on tickets for primary, secondary, college and overseas schools*
One FREE teacher ticket with every five pupils aged 5-11 years (Primary) or ten pupils aged 12-18 years (Secondary & College)
Free in-classroom lesson plans and risk assessment
Free Teacher Planning Tickets** (two tickets to come onsite and carry out your own risk assessment)
Flexible Book Now Pay Later booking option
Option to upgrade to include a combination experience.
UK & OVERSEAS (Per Pupil)
40 minute cruise through the heart of the city
Expert commentary provided by our professional and knowledge guides on board
Audio commentary available in various languages
Free teacher ratio (1:5 Primary / 1:10 Secondary)
Combination Experiences
Per Pupil Sept-Feb*
£14.95
Per Pupil March-July*
£17.95
30 minutes up high in one of our 32 capsules offering 360° moving views from the heart of the city
Admission on-board the London Eye River Cruise or into SEA LIFE London or Shrek's Adventure! London
Entry to our immersive 4D Cinema Experience
Free teacher ratio (1:5 Primary / 1:10 Secondary)
Two free planning tickets
Free classroom lesson plans and activity ideas
The Department for Education (DfE) has updated its guidance for day and overnight educational visits. Any educational day visits must be conducted in line with relevant coronavirus (COVID-19) secure guidelines and regulations in place at that time. This includes system of controls, such as keeping children within their consistent groups and the COVID-secure measures in place at The London Eye. To maintain social distancing with other guests, we request school groups separate into groups of 6 before arriving at the London Eye and not mix with other groups.
Schools should undertake full and thorough risk assessments in relation to their educational visits to The London Eye to ensure it can be undertaken safely. You can download our supporting risk assessment here.
If you are interested in booking an educational visit please complete our short inquiry form and a member of our booking team will be in touch to discuss availability.  
If you require further information on any of our packages please contact our booking team on 02079 678020. We'll be more than happy to provide all the information you need to ensure you and your students have a memorable, inspiring experience.
*Please be advised...
> Students aged 5-11 years will automatically receive 1 teacher free for every 5 pupils
> Students aged 12-18 years will automatically receive 1 teacher free for every 10 pupils
> Additional teachers over and above the free teacher ratios receive a 30% discount on our standard admission tickets. £21 for the London Eye and £9.50 for the River Cruise
> School rates are not available on the following super peak dates:
02 April - 11 April 2021
29 May - 06 June 2021
24 July - 06 September 2021
If you would like to visit on one of the above dates with a school group you can take advantage of discounted Language and Summer School rates at £17.95 per pupil for the London Eye and £9 per pupil for the River Cruise, 1 teacher will go free for every 10 pupils. 
Please Note
Merlin or other authorised parties carry out photography and/or video recording at the Attraction which features guests and be purchased as a physical and/or digital product. Booking your group entry to the Attraction is deemed acceptance for the group to be photographed. Group members are of course able to opt out by not engaging in any photographic situation and should be managed by the group leader, Minors (under 16 years old) must have parental consent obtained by teacher or group leader to have their group photograph/film taken.
Our Year 6 children thoroughly enjoyed the experience of the evening flight on the London Eye. They also particularly enjoyed the 4D experience which was a fabulous unexpected extra.
Ms. Magadieu - Hermitage Primary School
The London Eye has shown itself to be at the top of the class for educational visits by being awarded a Learning Outside the Classroom Quality Badge. Awarded by the Council for Learning Outside the Classroom (CLOtC), The LOtC Quality Badge offers teachers a guarantee that not only is a venue providing the sort of educational value that they can build on in class long after the visit but they also have the appropriate risk management structures in place.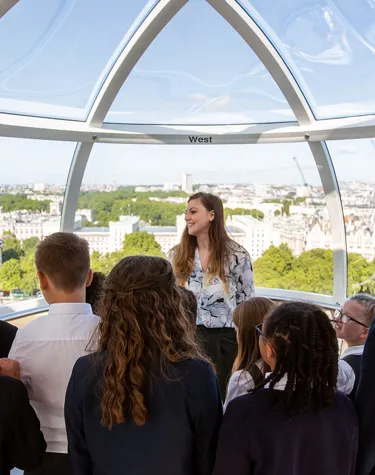 Receive classroom content at the click of a button