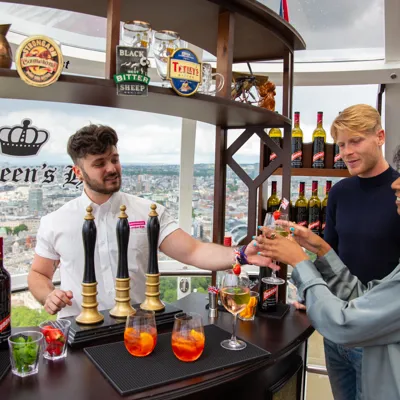 A brand new Pub Pod fit for a Queen!
We have created the ultimate way to celebrate the Platinum Jubilee celebrations here in London. Get ready to raise a glass to Her Majesty and travel back in time with our brand-new 1950s Pub Pod!
Our sky-high pub has been beautifully decorated with vintage bunting, authentic royal memorabilia and a photo gallery of The Queen, aimed to transport you back to Her Majesty's Coronation Day. 
'The Queen's Head' Jubilee Pub Pod would not be complete without having The Queen's favourite tipple onboard. Enjoy a selection of Beefeater Gin and Dubonnet-based cocktails, aptly-named 'Regal Spritz' and 'Royal Delight' as well as a selection of beers, wines and soft drinks.
There's truly no better way to honour our wonderful Queen and soak in the capital's skyline this summer. Our Jubilee Pub Pod runs until September so round up your mates and get a round in this summer!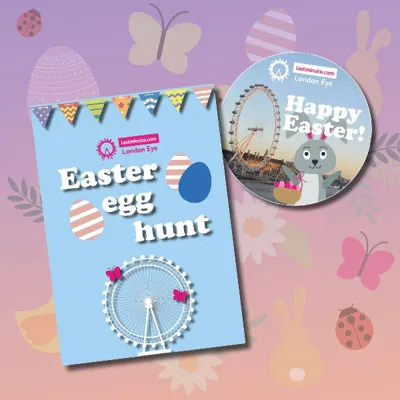 Egg-cited for Easter?
Well you should be! We're celebrating this season with a super special Easter egg hunt. Can you find all the eggs to spell out the mystery word? If you can you'll win a prize to take home, keep your eyes peeled!
Grab one of our free Easter themed booklets filled with games and quizzes for your little ones.  They're designed to help them learn a little bit more about our beautiful capital and make your family experience more memorable.
'Hop' on down to the Eye this Easter!
Fancy being whiskey'd away?
Looking for things to do with friends and family in London on the weekend? Well you've come to the right place – the best pub in the capital, with breath-taking 360 degree views on the skyline!
We've partnered with leading Irish whiskey brand Jameson to give you the best way to celebrate St. Patrick's Day and enjoy every weekend until June.
Join us on our Irish themed Pub Pod and taste some of Jameson's signature serves from the classic JGL - Jameson, Ginger and Lime, and the new Jameson Orange Highball, balancing the smooth taste of Jameson with notes of zesty orange.
Whether you're a whiskey lover or simply looking for a fun and different experience, this is the ideal way to spend time with loved ones doing something unique.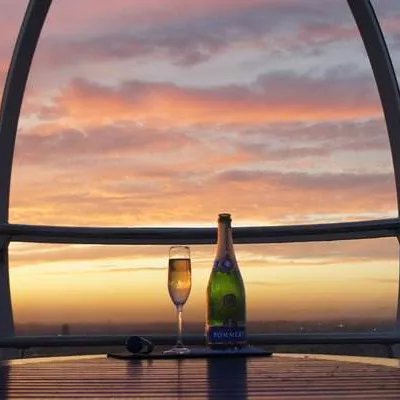 Cupid's Pod
The Cupid's Pod is the ultimate way to show someone special you love them. Create a truly unforgettable and private experience for you and your partner as you reach new heights!
With a private pod, as well as a bottle of Pommery Brut Rosé and a box of Hotel Chocolat Pink Champagne Truffles this is the perfect exclusive gesture.